A packed list of upcoming
LORD MAYOR'S CHARITY NIGHT
Featuring fabulous tributes to The Beach Boys (BEACHY BOYS) and The Jersey Boys (JERSEY 4)
TICKETS £10 (plus booking fee per ticket, when booked online)
Join us for another great night with brilliant live act JOHNNY BOY and resident DJ PHIL ANKERS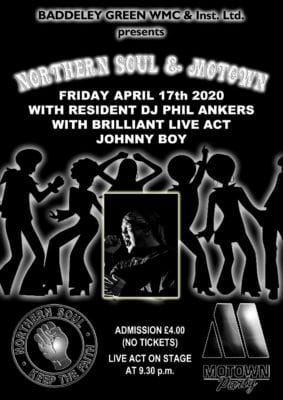 Incredible Soul & Motown band now led by Edwin's brother, Angelo. Stand by for a very special night.
TICKETS £14 (plus booking fee per ticket, when booked online)
OASISH & THE STEREOTONICS
Another eagerly awaited return for Paul Higginson and his fabulous band with top-notch tributes to Oasis and The Stereotonics
This gig, which was originally scheduled for Friday 27th March, has now been rescheduled for Friday 4th December.

Anyone who has purchased tickets for 27th March, either from behind the bar or online, is eligible for a refund, or you can hold onto your tickets for what will effectively be a Christmas Party gig.

4th December might seem a long way off, but hopefully this news will be well received during the current very difficult times.
Many thanks to Oasish & The Stereotonics' lead man Paul 'Iggy' Higginson for being so understanding and reasonable in reaching our new agreement so swiftly.
TICKETS £8 (plus booking fee per ticket, when booked online)