One of the Best WM Clubs in the UK
because we have everything
From live bands to darts and everything in between
Saturday entertainment in November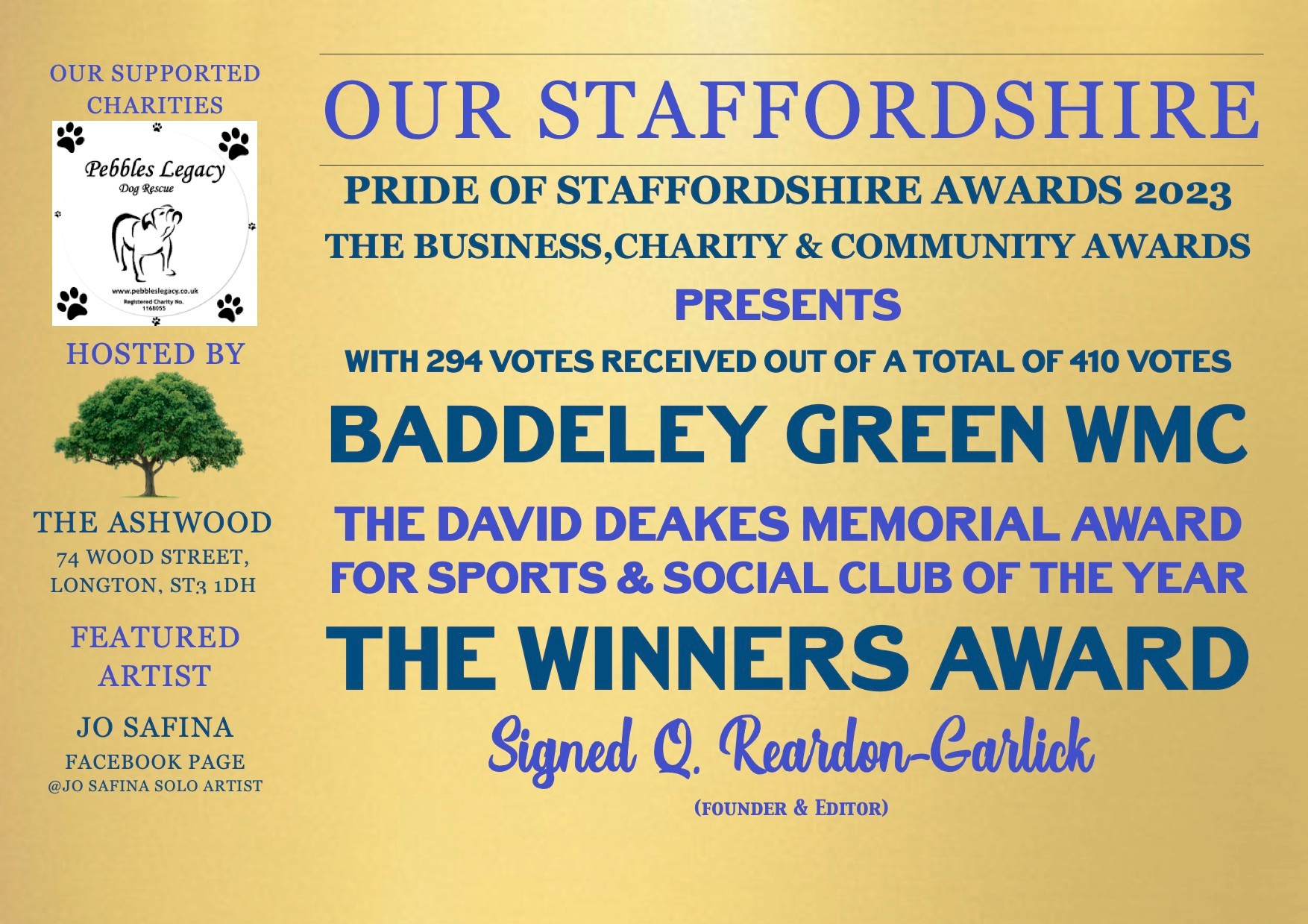 No further information to show...
Membership renewals for existing members
Friday 14th January – 7pm – 9pm
Saturday 15th January – 7pm – 9pm
Sunday 16th January – 12am – 1pm
Friday 21st January 7pm – 9pm
Saturday 22nd January 7pm – 9pm
Sunday 23rd January 12am – 1pm
Friday 28th January 7pm – 9pm
Saturday 29th January 7pm – 9pm
Sunday 30th January 12am – 1pm
February will be for new and existing members
Friday 4th February 7pm – 9pm
Saturday 5th February 7pm – 9pm
Sunday 6th February 12am – 1pm
Friday 11th February 7pm – 9pm
Saturday 12th February 7pm – 9pm
Sunday 13th February 12am – 1pm
Friday 18th February 7pm – 9pm
Saturday 19th February 7pm – 9pm
Sunday 20th February 12am – 1pm
NOTE: Members may also pay direct into the club's bank account by giving your membership number(s) as the reference. The bank details are: Baddeley Green WMC & Inst LTD, Account No: 52043743, Sort Code: 08 90 09
Members may also post your money through the club's letterbox in an envelope with your name(s) and number(s) on the envelope (no cards required).
Thank you
We're more than a working men's club, we're the hub of our community, a place for friends to meet and have a drink and a chat. A place for different groups to meet and get together.
As well as retaining the attractions of a traditional club, such as bingo and bar games, we offer so much more for our local community and further afield.

Many clubs have closed over the years after failing or refusing to move with the times, but our club made changes to engage many activities which would normally be hosted at a community centre.
Getting our residents out of the house to be active and sociable is a major part of our programme, with a range of fitness classes or groups, including walking, running, line dancing, indoor and outdoor bowls, yoga and more.
Our Thursday afternoon Friendship Club for over 55s is also very popular, while our facilities host many Birthday Parties, Anniversaries, Christenings, Funeral Wakes and other events.
Our club hosts the award winning Stoke FIT (Friends in Training) Running Club and a well run and attended Walking Group.
Crown Green & Indoor Bowls
We have outdoor and indoor teams who compete in local leagues, or our facilities are available just for fun.
Our regular bingo sessions are held on Saturday and Thursday nights, while our bar boasts all the traditional games with a Snooker Table, Pool Table, Dartboard and Skittles Table.
Line dancing classes on Monday nights are very well attended, while we also host Yoga, Fitsteps and other groups.
We have two function rooms available to hire for birthdays, weddings, or any other type of event.
Our Large Function Room comes complete with a large stage for entertainment and a dedicated fully stocked bar.
to suit all tastes in music
Our club has had the pleasure of hosting some of the best tribute bands in the world – all to packed houses!
Our regular Northern Soul & Motown nights are also very popular.
CALLING all members of Baddeley Green Club!

Vagabond's Barbershop will be offering half price haircuts for the whole month of October!!.. all you have to do is bring down your valid club membership card as proof.
(Offer will be valid Tues, Wed & Thurs only)

Thanks Baddeley Green Club for allowing us to run this offer 💈
#staysharp #staydapper

Walk in a Tramp, Leave a Gentleman 🍸 @ Baddeley Green WMC
Vagabond's is situated on Leek New Road opposite the club!
On a Bank Holiday Monday we're open from 2:30pm to 11:00pm